ITHACA, NY — Located in a chic office overlooking the Ithaca Commons, Galvanic is a medical spa run by a mother-daughter duo trying to bring holistic health and beauty to Ithacans.
"It's really more of a medical practice," owner Jessica Doto said.
Galvanic opened in February in an office above the American Crafts building on the Commons on the corner of Tioga Street. A true family business, Doto's husband put up walls to create separate office spaces for her and her daughter Francesca Figueiredo. The large windows let in plenty of natural light, and two black lounge chairs sit by the big windows overlooking the Commons.
"That's our IV station," Doto commented.
People who have either specific medical needs or are just feeling a little tired at work can make an appointment to have nutrients administered through an intravenous tube.
"After 48 hours people say 'wow I feel really good,'" Doto said. "I think that's the nice part of it."
Doto is a nurse practitioner who works in the ICU at Cayuga Medical Center and said she wanted to bring her medical expertise to different beauty treatments to create a way for people to find overall wellness. The practice has a strong focus on high-end skincare, medical-grade peels, dermal fillers, nutritional counseling, medically supervised weight loss and IV nutrients.
Figueiredo is a licensed esthetician and provides many of the skin care services, as well as makeup application and eyelash extensions. Formerly New Jersey residents, Doto and her husband moved to Ithaca about four years ago when he retired.
"We vacationed up here for many years," Doto said about Ithaca. "We sold everything and moved up here […] Best decision we ever made honestly."
A year or two later, Figueiredo followed.
"I lured her away," Doto laughed. "When we decided to do this I asked if she'd be interested."
Both point to the fact that their overall wellness goals are more aligned with people they've met in the Ithaca area, compared to the people they treated in New Jersey.
"In New Jersey they were a little more beauty focused, this is more holistic," Doto said. "I really wanted to make this more of a wellness practice and less of a beauty practice. At this point in my life and career, I don't think I want to be in that market anymore."
Figueiredo agreed, and said she wanted the chance to bring a more personal touch to her services.
"A lot of places that do injectables or skincare have people coming in and they just want what they saw on Instagram, and that's not always what's best for them," she said. "We put a focus on doing a really good consultation before anyone does anything."
Doto echoed that.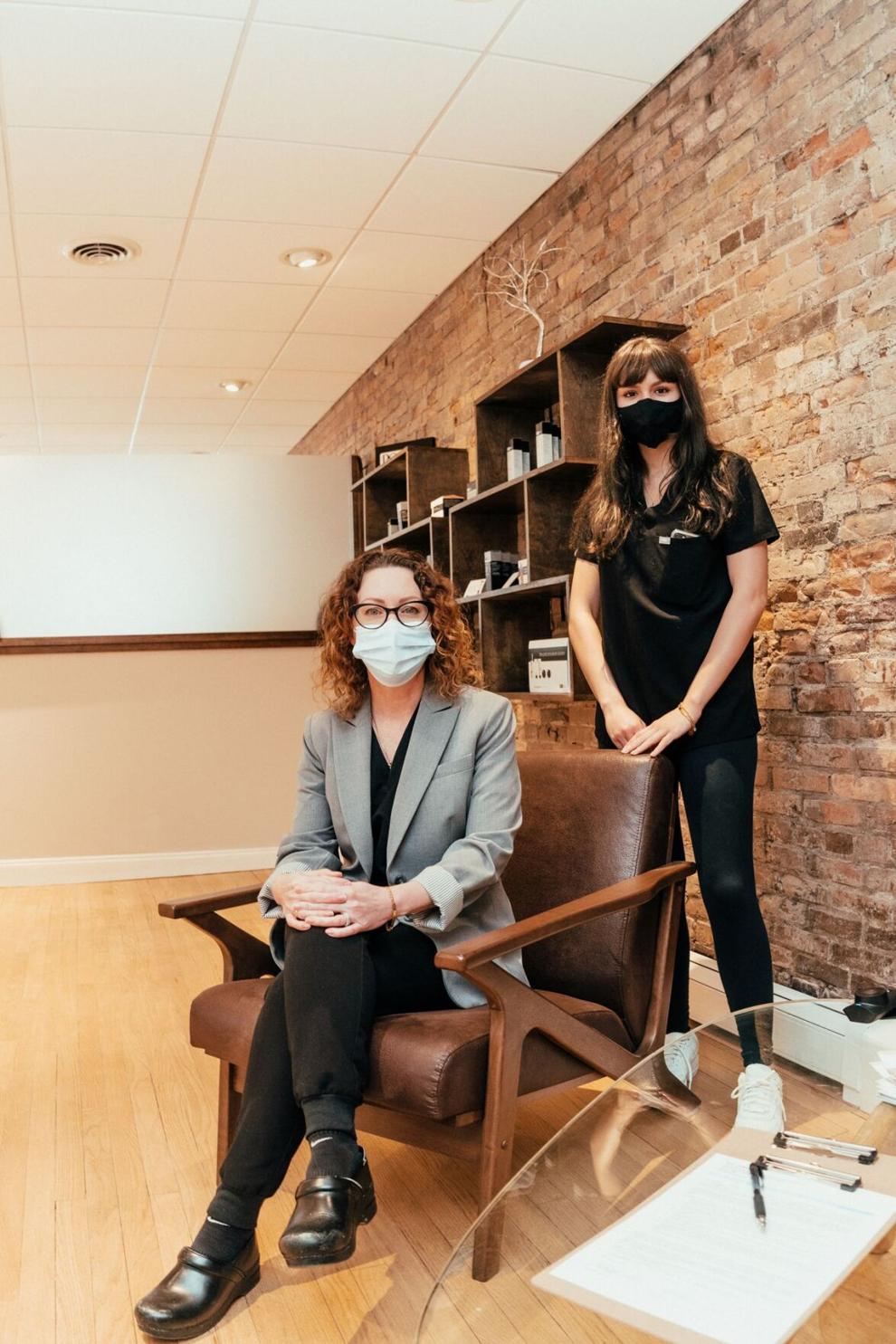 "The industry is full of cheap and fast, and it cheapens our industry," she said. "So we really wanted to focus on a more personalized, consultative approach. If you're unhealthy, no matter how many needles I stick in your face you won't feel better."
As a nurse practitioner, Doto said it was her medical experience that first got her interested in injectables about 15 years ago, and said she thought that if the time came that she wanted a little filler, she wanted to know more about it.
"It was something that grew from there and migrated over time and into the skincare and health parts," she said. "It was something that took my mind off the heaviness of my other job. I take care of really, really sick people on a daily basis. So to be in an environment like this where people are looking for help about skin or to be happier […] it's more of a happy place in medicine."
For Figueiredo, it was her love of art that led her to become an esthetician, but she echoed her mom's sentiments, and said it's rewarding to be part of a process that makes people feel good.
"I always had an interest in art, and then I got into makeup from there. I thought to myself, 'well, I'm good at art, how do you make money from that?'" she laughed. "So that was my segue into it. […] I also had an interest in biology, so that's when I got into skincare. It's been great, I love it because we do see all different types of people, and it's really nice to see someone leave when they have a good result and they're so much happier. […] I do get to help people and then I also get to do someone's makeup on their wedding day, so it's seeing someone at their best moments."
To learn more about services offered or to book an appointment online, visit www.galvaniclife.com.